As Mum to Cooper, Swim Wales' National Learn to Swim Manager, Hanna, passes on some of her top tips for introducing little ones to the water.
Before becoming a Mum herself, Hanna had the pleasure of taking nearly all of her friends little ones for their first swims with their parents. As confident as Hanna was in and around the swimming pool the first few times were a whole new experience with her own baby!
The introduction of babies and young children to the aquatic environment should be safe, positive, fun and progressive to promote a lifelong love of the water. Here are some basic steps that could be accomplished before going to the pool, which can help make swimming with little ones a fantastic and fun experience.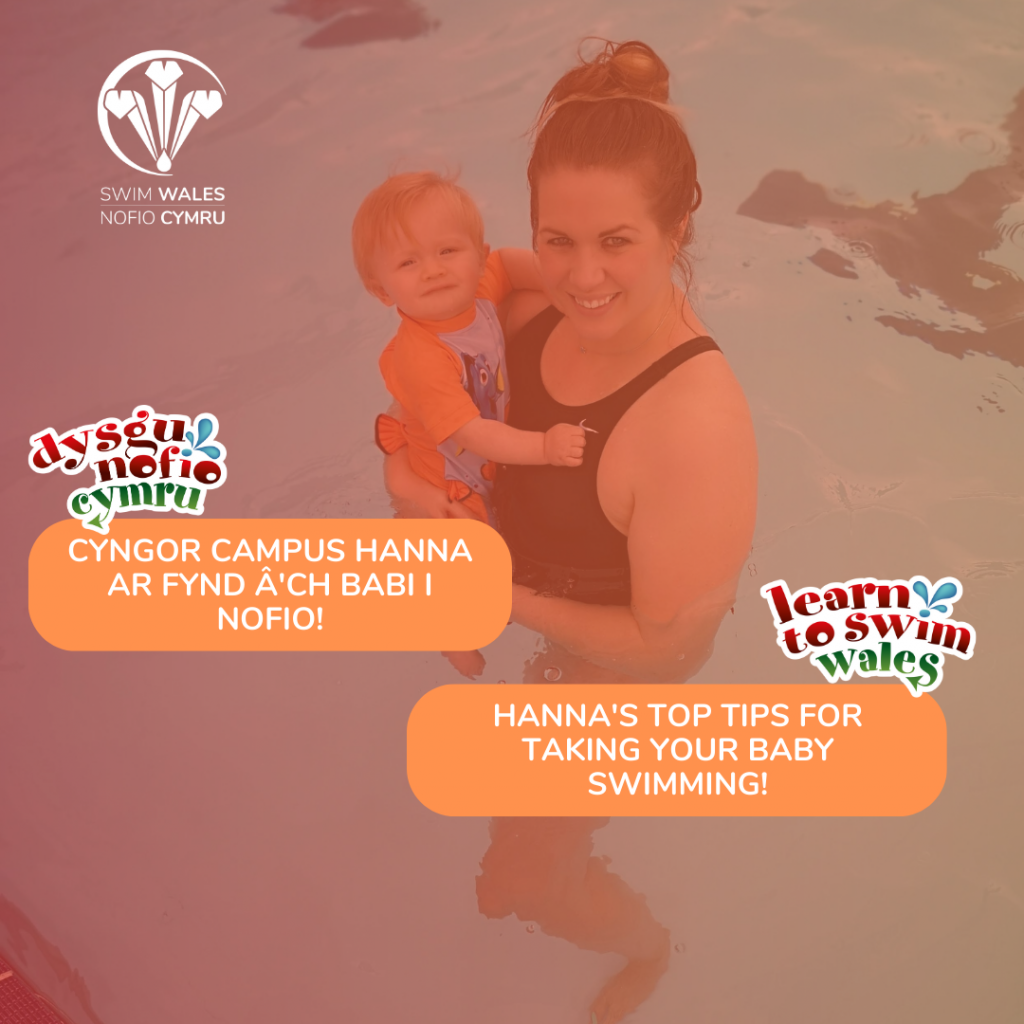 Getting yourself and your little one more comfortable in and around will definitely make for a more relaxing and enjoyable experience. Safety in and around the water is obviously paramount and playing games to encourage following instructions will help when you get to the pool. This can include prompts to move or jump and climbing onto a higher surface to practice getting in and out of the pool.
Splashing and discovering the water can help the child become comfortable and content when they get to the pool, this can be easily achieved in any area that can contain water including a water table, sink, bowl, bath or shower. The child can start discovering the water by splashing with their hands, finding and grasping toys, trickling water over arms and up and over the head.
Trying out the shower at home will help your little one become familiar with the experience of having a shower at the pool. This experience can begin with water being trickled over a baby's head in the sink to practice washing them progressing to washing you both in the shower at home where you are both comfortable.
Getting used to water in the mouth, over the face and head is a key progression for developing confidence in the water. This can easily be practiced away from the pool in the bath, water table or even just a washing up bowl! Blowing bubbles and humming tunes in the water can be great fun for little ones and playtime can begin with blowing toys on the surface and increase in difficulty by lowering the head a little further each time until the head can be fully submerged.
Singing songs at home can be a perfect way to transition a fun experience on the land to the pool. Most traditional songs and rhymes can be used in the swimming pool with adapted actions and movements. A classic and one of Cooper's favourites was 'Wheels on the Bus', he loved splashing the water when the horn goes beep, beep, beep! Songs and rhymes will likely be familiar and help both the child and adult relax in the water. Cooper was not keen on lying flat on his back in the water, so we started singing 'Dingle Dangle Scarecrow' which encouraged him to float in the water as he was demonstrating the actions to the song!
Remember, you are not expected to be teaching Olympic standard skills and it really doesn't matter if you are not the greatest swimmer yourself. The priority is exploring and experiencing the water, developing confidence and having fun together!
Top Tips for Early Years swimming….
Think about a proper Early Years class
There are many providers that run classes for adults, babies and toddlers. Swim Wales has the Learn to Swim Wales Bubbles and Splash Early Years programmes which most local centres offer. These classes will help to give you confidence introducing your little one to the water as well as guiding them at the right pace in the water.
Go on a recce!
If you have not been to the pool recently, if possible it is a good idea to go for a visit before your first trip, especially with a very young baby. Some leisure centres have shared videos on their websites or social media of the journey through the building. Don't be afraid to ask the centre staff any questions, they are there to help and make your visit as positive as possible.
Make a note of where the family changing rooms are, where the changing tables are, is there a playpen, where are the lockers, what coin operates them, where are the showers, is there a café for afterwards?! This will help the first swimming trip go much more smoothly.
Go prepared!
To make pre-swim changing easier, consider putting your swimming costume on at home before you go to the swimming pool and arrive 'beach ready', but do not forget to take your underwear!
Take 2 towels for your little one – one to wrap them in on the way in and out of the pool and one to use to dry them!
Swim day is not the day for fiddly clothes or tights! Choose quick and easy to put on clothing for the both of you; zips rather than buttons or poppers which can be fiddly when you are trying to change quickly and get warm!
Take their favourite bath toy
Little ones will take to the pool a lot more quickly if there's something familiar there. So think about taking their favourite bath toy, rubber duck, ball or boat!
How long should we stay?
If going swimming with a young baby be led by them for how long you stay in the pool. Be aware of the water temperature – you might only be in for 15 minutes, but this time will gradually increase as they grow. Focus on quality not quantity, you want going swimming to be an enjoyable experience!
Depending on the water temperature of the pool you are using you might need to consider a neoprene wrap or baby wetsuit to keep your baby warm.
Don't get caught out!
Young children who are not toilet trained should wear a double nappy system of a swim nappy underneath a specialised waterproof swim nappy to prevent water contamination wherever possible. Participants should be made aware of any site specific policies at the venue where they swim.
In at the deep end?
Especially with a young baby do not be afraid to go straight in at the deep end! Make sure you get into the water safely, asking for help from the pool staff if you are swimming alone. If you as the adult can stand up and be in a comfortable body position in the water, that will help both of you have a better experience! Get on little one's level – get your shoulders under the water so you can have eye contact with each other.
The design of local pools vary significantly; some will have a beach style area others are a traditional rectangle. Explore the whole pool with your little one, do not be scared of taking them into the deeper water as you do not want them to develop a fear. Using fixed swimming aids such as armbands, discs or belts will mean that little one is safe and able to independently explore both shallow and deeper water.
Who first?
There is no right or wrong order for who to get dressed first! Do what feels best for you. If you choose to get yourself changed first whilst little one is safely wrapped up in a towel you do not lose any points! Alternatively, wrap yourself up in a towel and get little one dry, warm and dressed and they can be occupied with a snack and/or toy whilst you get changed.
Take a dressing gown or poncho towel for your older baby
If you're taking your young baby swimming, a large towel with a hood to swaddle them in will do fine. But if you're taking an older baby who will shrug or wriggle a towel off, go for a dressing gown or a poncho towel. You can slip poncho towels over their heads to keep them on. Take the dressing gown or poncho onto poolside. That means you can peel off their top layer as soon as you get out of the water.