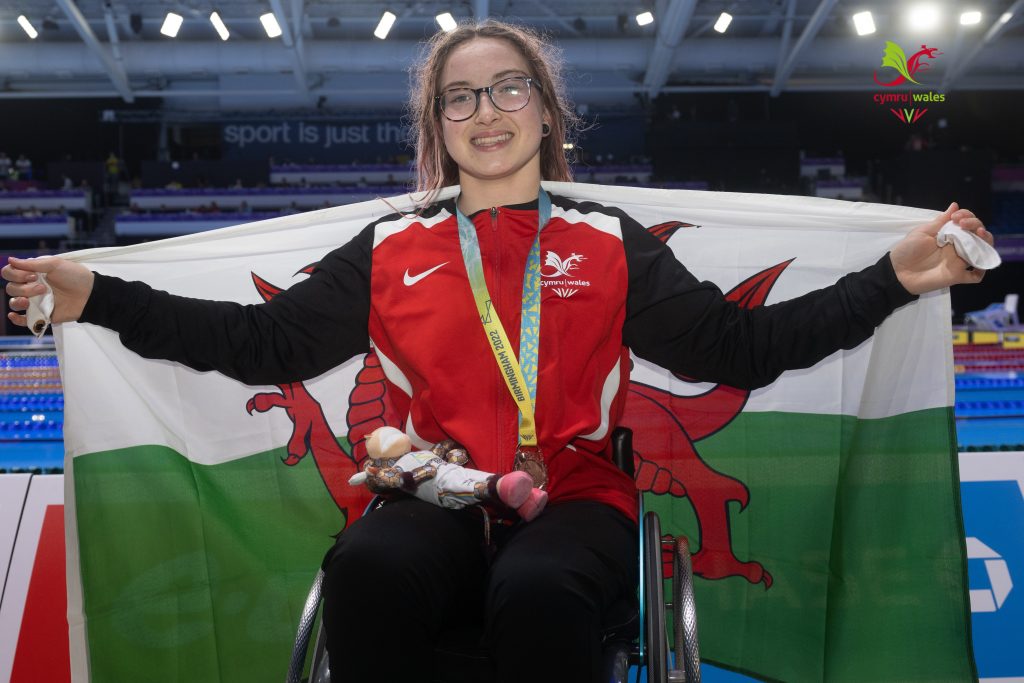 The 2022 Commonwealth Games brought significant success for the Swim Wales athletes, coaches and support staff who had the honour of representing Team Wales in Birmingham.
A pair of bronze medals for Medi Harris and Lily Rice added to the impressive tally of 11 Welsh records over six days of swimming action at Sandwell. Our inexperienced squad of 23 swimmers and divers, which contained 18 debutants, represented their country with pride against the best aquatic athletes on the planet.
The group not only demonstrated their team spirit, togetherness and professionalism throughout, but their performances also proved their class amongst arguably the highest quality of competition at any Commonwealth Games.
Ross Nicholas, Swim Wales National Performance Director, said: "I must start by saying a huge thank you to our athletes, coaches and team staff who contributed so much over our journey to Birmingham and throughout the competition, we certainly couldn't have given an ounce more effort as a team.
"We were delighted for our two bronze medallists, Lily Rice and Medi Harris, who's hard work and dedication paid off with a deserved place on the podium. Our entire squad can be proud of their performances, especially after a challenging build-up that saw a number athletes testing positive for Covid-19 within two weeks of the competition.
"When I reflect on the statistics, it is apparent that it was a remarkable performance from such an inexperienced team and a country of our size. Out of a total of 36 event entries, the team achieved a total of 20 top eight finishes, 13 top six finishes and six top four finishes, which demonstrates our ability to compete with the very best on the world stage. Birmingham were fantastic hosts, and we cannot wait to see what's in store in Victoria in four years' time."
Despite the challenges the team faced in the build-up, they overcame adversity to deliver incredible performances. Out of a total of 36 event entries, a third reported new personal best times, and more than half were completed with season best times.
More history was made in the diving, as Team Wales were represented with three divers for the first time at the Commonwealth Games. Aidan Heslop retuned for his second Games appearance to improve on his points tally from the Gold Coast, while Lucy Hawkins made the final at her maiden international event.
On the final day at Sandwell, 16-year-old Ruby Thorne teamed up with Heslop to become the first Mixed Synchronised pair to represent Wales in the 10m Platform event, finishing eighth with a score of 284.28 despite Thorne suffering a perforated eardrum just days before the competition.
Fergus Feeney, Swim Wales CEO, said: "I watched on with immense pride as our athletes represented the nation and the organisation with great pride and humility throughout 12 days of world-class competition at Sandwell Aquatics Centre.
"I must say a massive thank you to Ross and his team, and congratulations to each and every athlete who were a credit to themselves and their country. I have no doubt that our team have inspired a nation to take up or reengage with aquatic activity, and it is our challenge to nurture this new audience to ensure we not only have a healthy pathway across all of our sports, but that we have increased participation across Wales."