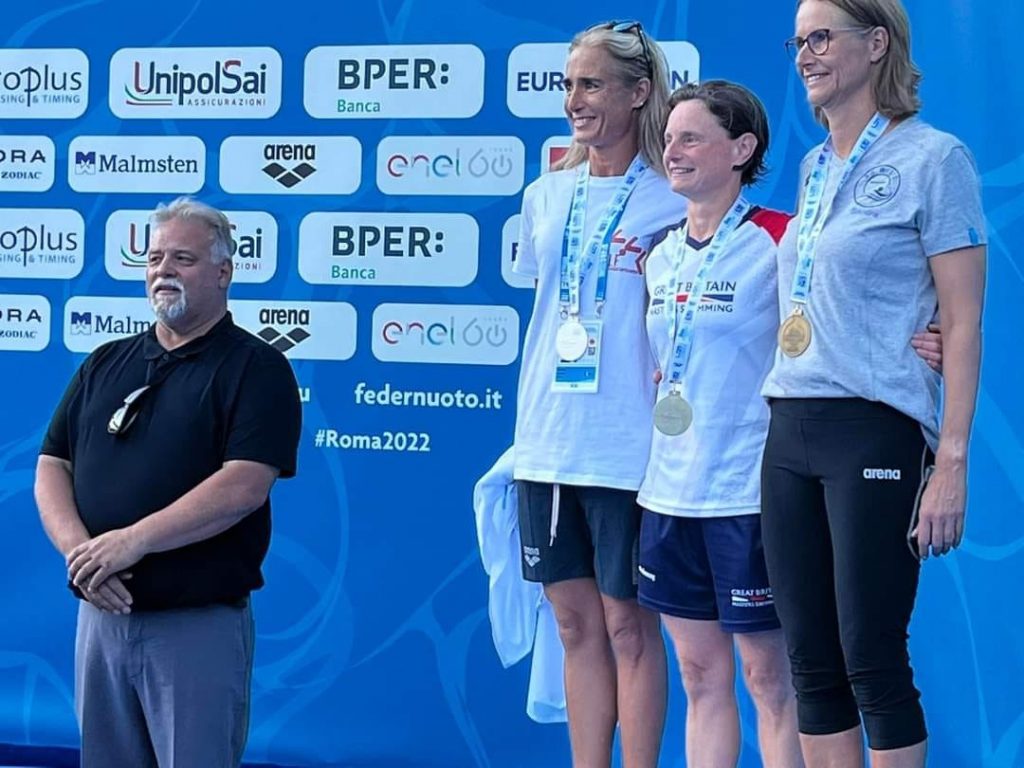 After Medi Harris starred for Team GB at the European Championships in Rome, there was more Welsh success in the pool as the Masters community took centre stage at the LEN European Masters Championships.
GB Masters Working Group Chairman, Nicola Latty starred in the pool to bring the Masters season to a close in style with a haul of medals and records. Nicola, who was flying the Welsh flag alongside Wrexham's Kim Collins, claimed gold in the 400 IM in a new British record time of 5:33.63 in the 50-54 age group, silver in the 200 Butterfly with another British record (2:33.85), and a Welsh record of 2:42.78 to finish second in the 200m Backstroke.
The event took place in the same pool that David Popovici produced a stunning swim to secure a new 100m Freestyle world record. And Holywell swimmer Nicola, enjoyed every second of the Italian experience.
"It was really good, we had such a good time," she said. "The facilities were phenomenal and there was a general appreciation for us Masters swimmers. We can sometimes feel like we're a bit second class, but I felt really special out in Rome.
"It was great to see Medi do so well a couple of weeks earlier, she was one of our top female performers and it was fantastic to see a Welsh athlete do so well.
"I was really chuffed with the results, considering how much I've had on with work and the pool time we got out there.
"We were running around all over the place out there, but luckily it didn't seem to hurt my swimming so that was really nice, to be able to swim really well because I wasn't expecting to get those results."
Nicola and Kim were part of a 207-strong British Masters squad who took part across the various disciplines. The thriving community holds multiple events throughout the year and is open to all.
A strong contingent of open water athletes will head to the Swim Wales Challenge Series event in Bala for the GB Masters Open Water event on Saturday.
"We have suffered since lockdown with pool time," she added. "We love being in the water and we've struggled a bit with that lately, so it was nice to get back out there.
"Next up for the Masters community is the GB Masters swimming event at the Challenge Series event in Bala, that extra start will definitely add to the day. We'll then look to get our short course event on in November, so we're looking forward to that."
If you would like to get involved in the Masters swimming community, find a club near you here!