Matthew Richards made a late charge to clinch a historic gold medal at the World Aquatics Championships in Fukuoka.
The 20-year-old became the first Welsh individual world champion after a stunning final 25 metres in the 200m Freestyle final. Richards clocked a new lifetime best and Welsh record of 1:44.30 to edge out British Swimming teammate Tom Dean by two hundredths of a second.
Romania's David Popovici led from the off in a stacked final containing Korean Sunwoo Hwang and Luke Hobson of the USA, but opened the door for the British duo to clinch a dramatic one-two down the home stretch.
Richards stormed into pole position in the final 10 metres with Dean mere inches behind to earn Great Britain's first medals of the 2023 World Aquatics Championships.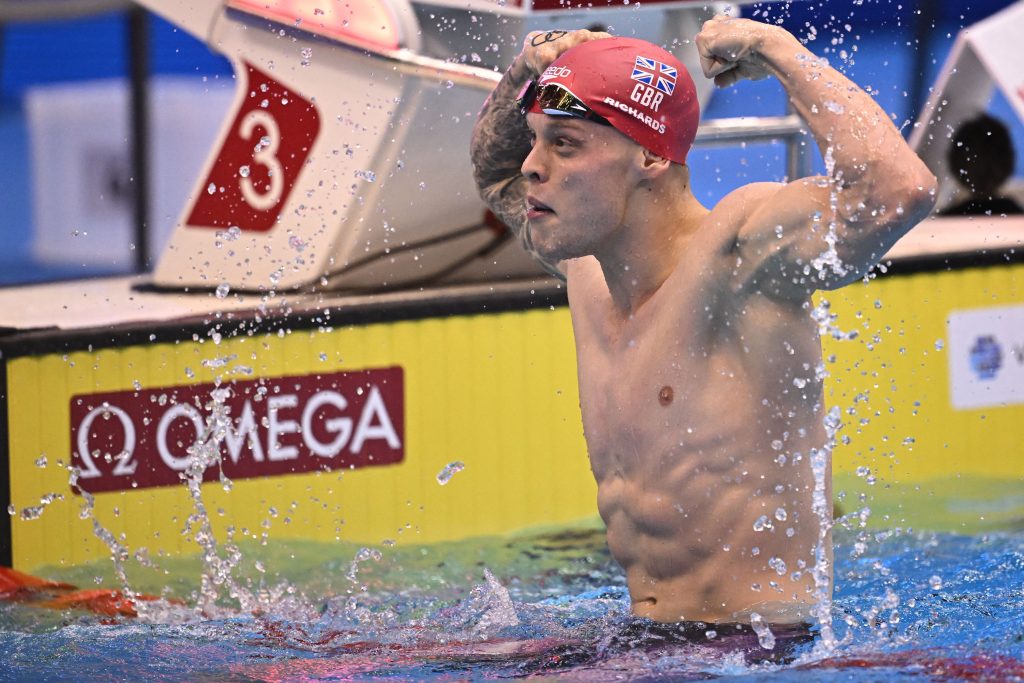 "People thought Popovici was going to walk away with the gold so my coach and I had to plan our race and swim sensibly," Richards said. "But some of those guys have very long arms so I knew I needed to get the finish right.
"That was a hell of a race, probably one of the most stacked 200 freestyle fields ever. It's awesome to land a 1-2 for Great Britain one year out from Paris and after Tom and Duncan did it in Paris.
"I was lucky to be breathing to the right down the last length so I could see where everyone was. We got the job done and I can't wait for the relay."
"It all comes down to not being afraid and trusting in your ability and the work you put in."
Olympic relay champion Richards, who swum the last 50 metres in just 26.53 seconds, is back at the summit after the most testing period of his young career.
After struggling to find his finest form at last year's World Championships in Budapest, he moved programmes to Millfield, where his fiancée Emily Large also trains. He built back during last year's Commonwealth Games but missed out on a medal, but now his decision to reset has been vindicated.
"Last year was a really tough one, coming off the back of a very successful 2021," added Richards.
"It was tough to take a step back, and in fact, quite a few steps back in both the 100 and the 200 (freestyle).
"There were lots of lessons throughout the season, lots of things I have learned and taken away with me with what I do now. I've made some changes in terms of my training base, my team I've got around me and I'm very happy with where I am right now.
"It's definitely a pretty cool feeling. I said after Tokyo being part of that 4×2 gold that the next step for me was winning individual medals.
"Last year was a bit of a setback for me. It wasn't quite going my way but I made some changes and learned a lot from a tough year.
"It feels pretty incredible now to be stood on top of the podium a year out from the Olympics."
There was further Welsh success on Tuesday as Medi Harris produced on the big stage once again. The North Wales star qualified for the 100m Backstroke semi-finals in 12th position but stepped up to snatch the last place in the final.
After finishing seventh in Budapest last year, Medi produced a stunning swim in Japan to match her finishing position at last year's event in a time of 59.84.
Dan Jervis finished 23rd in the 800m Free heats, but has the 1500m to look forward to on Saturday.