On Day Two of #GetIntoParaSwimming Week 2022, Paralympic and World Championships Gold Medallist Liz Johnson talks about her journey from the early days at Bedwas Leisure Centre to stepping on the podium, and her advice for young swimmers going through the classification journey.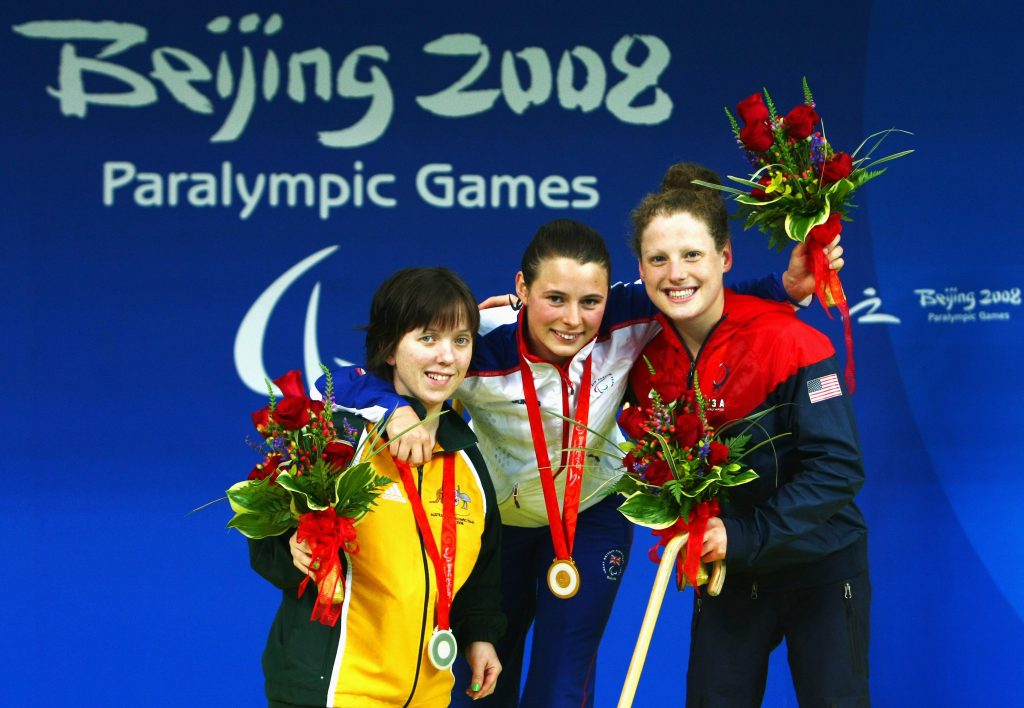 Liz Johnson scaled the summit of para swimming to become one of Wales' most decorated Paralympians, and now she is here to pass on her advice and experiences to the next generation.
Like many children, Liz, who has cerebral palsy, got into swimming to give her parents the knowledge that she would be safe in and around water. Those days spent learning the lifesaving skill at Bedwas Leisure Centre quickly developed into a passion as she joined a group of swimmers who would go on to dominate at world level.
"I did a crash course on how to learn to swim during a half term at Bedwas Leisure Centre because that was where my mum used to take her school swimming," she said. "One of the lifeguards there, Kay Hurley, ran a swimming club for people with disabilities.
"Loads of us were there at the time for therapeutic reasons, Nyree Kindred and David Roberts were there too. They needed a fourth person for their relay team, I didn't really want to go, but I ended up going because I was competitive and I wanted to take something to the next level.
"It was before we were amazing athletes back in 1995, it turned out to be a hub for developing us. We all joined able bodied clubs, but the time and pool space Kay made for us, helped us fine tune our techniques and that was invaluable."
Soon she was immersed in the competitive world of aquatics at Torfaen under Gary Rosser, but she would return to Bedwas Leisure Centre to fine tune her specific techniques. Liz's rapid rise in the sport continued as she was classified in the S6 category, but she would suffer a classification setback on her journey towards her first Paralympic Games.
After being reclassified in the S7 category, Liz was forced to compete against more able athletes and ultimately missed out on selection for the 2000 Sydney Games. But she bounced back to win gold medals at European, World, and Paralympic levels following her return to S6, and she has urged young para swimmers to focus on their training and techniques rather than their classification.
"People can think classification is more important than their life, but it doesn't define you," she said.
"It doesn't define you as a person and you have a lot of life to live when you're not swimming, try not to obsess about it, you have to be on the blocks thinking it's fair otherwise you'll never be in the right headspace to win.
"I never looked at the classification system or the boundaries because as far as I was concerned, my ability is what it is and the system wouldn't affect it. I would say to young people, don't worry about your classification, worry about your training and what you're doing because your classification may change as you grow older."
Liz announced herself to the world in the SB6 Breaststroke at the 2004 Athens Paralympics and went on take gold four years later in Beijing after securing a trio of first place finishes at the World Championships in South Africa, and she has one final pearl of wisdom for the swimmers embarking on their para swimming journey.
"Regularly check back on why you're swimming, and make sure you're doing it because you still love it," she added. "I didn't love it when I went to trials for Sydney and I couldn't go because I wasn't quick enough against abler swimmers.
"I had three or four months out where I didn't swim, but when I watched the Paralympics it made me want to get back in for the next one so I trained and ended up back in the S6 category anyway. You just have to surround yourself with the right people throughout your career."