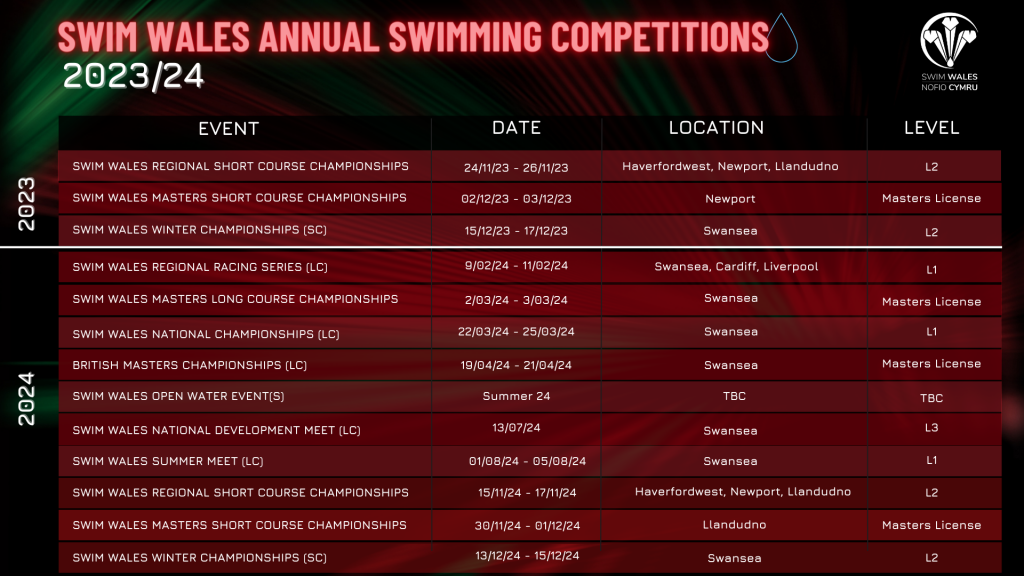 Swim Wales has introduced several enhancements to the swimming and para-swimming competition pathway and event structure for the 2023/24 season.
Following an extensive review of our Performance System conducted between September and December 2022, Swim Wales has conducted an in-depth Competition Pathway and Events Review, resulting in a series of recommendations for our events calendar as we transition into the new season.
The Swim Wales Aquatics & Inclusion and Performance teams have collaborated closely with our newly established Competition Pathway Panel and the existing Regional Events Panel. Their valuable feedback and ideas have played a pivotal role in shaping this improved competition structure.
Our new competition calendar has been designed to be inclusive at all levels, while it creates competition opportunities that are innovative and exciting for participants and spectators. It is our aspiration that this new structure will empower athletes, coaches, officials, and volunteers to excel and evolve throughout the competitive season.
The improvements to our Competition Pathway and Event Structure form the first part of a three-phased approach to evolve event experiences across Wales:
Phase 1 – Swim Wales National, Regional, and Development Event Structure
Review: June – July 2023
Implementation of Improvements: Starting from September 2023
Phase 2 – Club Competition and Meet Licensing
Review: November 2023 – January 2024
Implementation of Improvements: Starting from September 2024
Phase 3 – Competition Formats and Event Experience
Review: May – June 2024
Implementation of Improvements: Starting from September 2024
Aligned with the practices of the other Home Nations and British Swimming, the Regional Short Course Championships during the short course season will introduce fresh qualification opportunities for the Swim Wales Winter Championships. Similarly, the Regional Long Course Championships will offer pathways for qualification to the Swim Wales National Championships and Swim Wales Summer Meet.
We remain committed to working closely with our clubs to expand opportunities for swimmers to participate throughout the entire pathway. Please email any queries to swimwales-events@swimming.org.