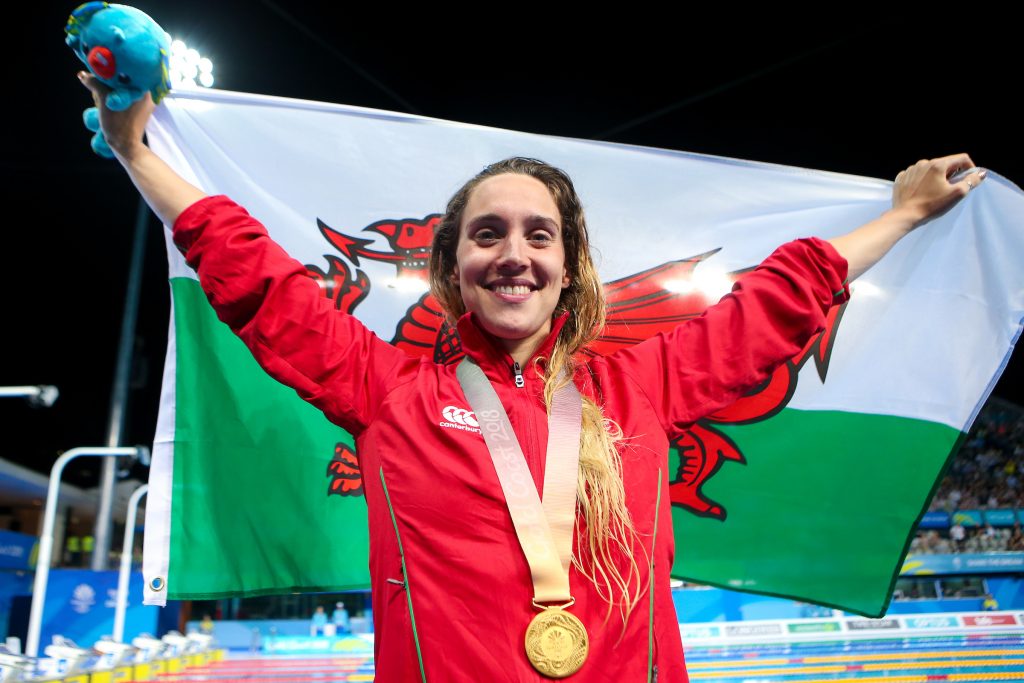 Alys Thomas has been forced to retire from competitive swimming.
The 2018 Commonwealth Games gold medallist has called time on a glittering career on the advice of medical professionals due to an ongoing wrist injury that she first sustained before the 2010 Games in Delhi.
Despite her injury issues, the 31-year-old reached the summit of the sport. Over an international career spanning 12 years, Alys represented Wales at four Commonwealth Games and reached World Championships and Olympic finals with Great Britain.
Her defining moment came with Team Wales as she re-wrote Commonwealth Games history on the Gold Coast. Her stunning 2:05.45 swim in the 200m Butterfly not only clinched the gold medal, but did so in a Games record time as she slashed more than two seconds off her previous best to announce herself on the world stage at the age of 27. Alys delivered a rapid 32.74 final length for the crown and Games record to become only the fourth Welsh woman in history to claim Commonwealth gold in the pool.
Alys also played a starring role in the Women's 4x100m Medley Relay to help Wales pip England to bronze alongside Chloe Tutton, Georgia Davies and Kathryn Greenslade. Later that year she clinched two more bronze medals in the 200m Fly and Women's 4x100m Medley Relay at the European Championships in Glasgow.
After becoming the 10th fastest woman in 200m Fly history, Alys had the chance to test herself on the biggest stage. The Swansea swimmer was less than half a second off a World Championships podium place in Gwangju, and two years later she finally got the chance to realise her Olympic dream as she finished seventh in Tokyo.
She accomplished all of this whilst battling with the injury that eventually denied her a repeat of her 2018 glory at the Birmingham edition of the Games this summer. Paris was still in her sights despite her injury struggles, but she was forced to take the decision to bring down the curtain on her career, or face losing the function of her wrist and hand.
"Unfortunately, my time in swimming as an elite athlete has to come to an end," said Alys. "What started out as a simple cartilage injury in 2010 has now reached the point where my management strategies are very limited and basically I can't go on loading that joint anymore.
"I'm feeling a bit sad, that's the main emotion I'm going through right now. I've had a nice break over the last two months but within that, I had a specialist consultant appointment about a long term wrist injury that I've been managing over the last 12 years. I was told that my time in elite sport should come to an end unfortunately.
"I went in with the hope I could squeeze out another 12 to 18 months. My goal was to make Paris in 2024, but it was set out to me that my wrist was not in a good way and if I were to continue loading the joint with the daily grind of training, potentially I would lose function in my hand and my wrist.
"It's a lot to take in and a lot to get my head around, it doesn't sit well with me as an athlete and I want to carry on."
As an elite athlete, Alys was ready to push on through the pain to reach a second Olympic Games. The injury is now not only affecting her future in the sport, but it is now having an impact on her day-to-day life with normal tasks causing Alys discomfort. Although she wants to continue, the gravity of the situation is beginning to become clearer.
"At the moment I find it hard to drive a car, cut up my food, pick things up and even writing," she said. "The athlete brain doesn't really care about that stuff as long as I can swim, but the longer I think about it, the more I understand that is not a healthy way of thinking.
"I need a functioning wrist and hand in day-to-day life in order to be able to those normal things.
"If I'm not going to be able to swim, I need to be able to take care of my body and my wrist. I was told in very plain terms that I need to take three to six months off to allow this to settle down in order to have a normal functioning hand and wrist.
"I still have a lot of pain in my wrist at the moment and I was told I have arthritis that you would expect to see in the wrist of a 60-year-old and I'm 31. My management strategies have helped me deal with it over the last two years but it's got to the point where it's just not feasible anymore."
Since arriving 12 years ago, Alys has made her home in Swansea at the Swim Wales High Performance Centre. And now, as she begins to reflect on her career, Alys is proud of her long list of achievements.
"I am so proud that I got to four Commonwealth Games representing Wales, that Commonwealth individual gold and relay bronze, two European medals and two World Championships appearances," she said. "I go back to the 2019 World Championships, I've watched it a handful of times and I was close to that podium.
"I came fifth but I was a fingertip away, and that pushed me on. There have been times where I see glimmers of what I could have done but I'm not disappointed, I'm really proud of what I've achieved.
"I would like to thank my coaches Stuart McNarry and Adam Baker and all the support staff at Swim Wales and Sport Wales for helping me and guiding me over the 12-year journey of ups and downs and never leaving my side."
Although it's time to hang up the goggles, Alys has no plans to leave the sport she has dedicated her entire life to.
"I started when I was five so I've been swimming for almost 27 years," she added. "It's a long time to be in the sport and it's very difficult to let go of it. I want to stay in the sport – I can't go cold turkey on it.
"I need to be weaned off it in some respect, I can't just shut the door and never come back. The difficult thing is that because I had never been told that enough is enough, I never had anything in the background to transition into something else."
Swim Wales National Performance Director Ross Nicholas said: "I'd like to congratulate Alys on a fantastic competitive career. Although her time competing hasn't ended in the way she would have dreamed, Alys should be so proud of what she's achieved since joining the Swim Wales High Performance environment all those years ago.
"It's testament to her hard work and resilience that she became a Commonwealth champion and an Olympic and World Championships finalist in the last four years of her career, and she will be remembered as one of our nation's finest aquatic athletes.
"All of us at Swim Wales are here to support Alys in the next stage of her career after she has dedicated so much of her time and effort to not only achieve success in her own career, but to help and inspire those around her."