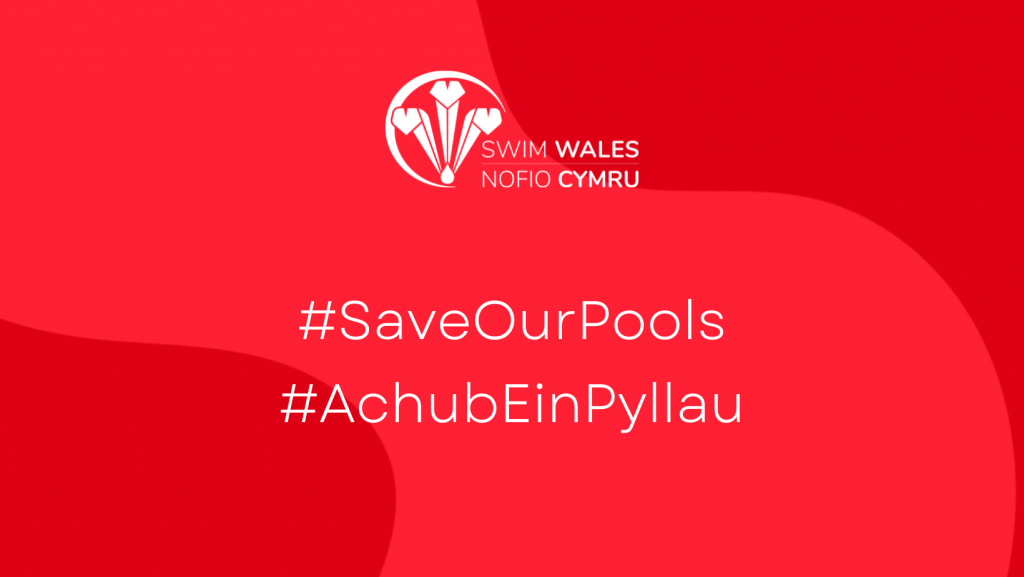 Swim Wales is leading the fight against facility closures in Wales by launching the #SaveOurPools #AchubEinPyllau campaign.
Swimming pools and leisure centres across Wales are under threat as the energy crisis continues to impact communities across the nation. These facilities provide an essential service, and are vital to the health and wellbeing of the country. Swim Wales, alongside Swim England and Community Leisure UK, are determined to ensure they are protected.
The recent National Survey for Wales and School Sports Survey from Sport Wales have shown swimming to be one of the most in demand activities across the nation, with 61 percent of primary school children in Wales wanting more regular participation in aquatics. Swimming and aquatics is the second most commonly participated activity in Welsh communities, and offers a unique opportunity for people of all ages and abilities to take part. Without pools, this demand cannot be serviced.
To launch the campaign, Swim Wales is calling for our facilities to be protected by urging the Welsh Government to recognise the particular vulnerability of swimming pools and leisure centres by providing a ring-fenced package of financial aid above and beyond the Final Local Government Settlement to ensure pools remain open. The #SaveOurPools petition to Welsh Government can be found here.
Swim Wales Chief Executive Fergus Feeney said: "We must fight to protect our pools at all costs as the energy crisis continues to have devastating effects on our sector. The health and safety of the nation is at risk if we see more pool closures across the nation, and with drowning fatalities on the rise and swimming ability in children declining, immediate intervention is required.
"Despite 500,000 adults and children being aquatically active in Wales, accessibility and affordability is already at an all-time low, and predicted to fall by a further 30 percent over the next 12 months. It is critical that action is taken to ensure vulnerable leisure facilities and pools are protected. We will continue to work closely with Welsh Government & Sport Wales to make this case and live our vision of 'Aquatics For Everyone For Life'."
Swim Wales has also provided a template letter for clubs, swim schools, members and concerned members of the public to write to their local MS to express their concern about their local facilities, as well as social media posts and images to spread the message far and wide.
Community Leisure UK (CLUK) – the organisation that represents charitable trusts delivering public leisure and culture services across the United Kingdom – say 80% of its members have told them they are at financial risk amid skyrocketing costs. And Vice Chair Alistair Robertson says pool closures will have a lasting effect on the most vulnerable members of our communities.
Alistair Robertson, Vice Chair of CLUK, said: "The UK's community leisure sector is in peril as operators struggle to pay huge energy bills while still trying to recover from the consequences of the coronavirus pandemic. Without designation as a vulnerable sector, the situation will become existential after 31st March.
"Bills are bad enough now, but the prospect of them rising further after April 1st is frightening.
"Many swimming pools in particular are in the last-chance saloon. Without urgent Government support to pay their energy bills, many operators simply will not be able to afford to open them.
"We fear closures at an alarming rate, right across the country. Once closed, it is hard to see them reopening.
"Given that our members provide community services at affordable prices, it's the most vulnerable – those already hit hardest by the cost of living crisis – who will suffer the greatest at a time when they need support with their health and wellbeing most."
The bank of Save Our Pools assets, including a template letter, example social media posts and more can be found here.
Background information

Swim Wales is the National Governing Body for Aquatics and it associated disciplines in Wales which include Swimming, Water-Polo, Para Swimming, Diving, Artistic Swimming, Open Water and Masters Swimming. The organisation was formed in 1897 as the Welsh Amateur Swimming Association and adopted the trading name of Swim Wales in 2003.  

Three quarters (74%) of council areas are classified as 'unsecure', meaning there is risk of the closure of leisure centres and/or reduced services before 31 March 2024. (UK Active data: https://www.ukactive.com/news/forty-per-cent-of-council-areas-at-risk-of-leisure-centre-and-swimming-pool-closures-and-restrictions-before-april-without-immediate-support/)  

61% of Welsh Primary School children want to swim more (Sport Wales School Sport Survey 2022) Only 42% of children in Years 3-6 can swim 25m unaided in Wales (Source: Swim Wales Provider Audit, 2022)

80% of Community Leisure UK members are at financial risk (https://communityleisureuk.org/news/sos-plea-to-chancellor/)  

234,000 Welsh adults want to swim more (National Survey for Wales 2021)   Drowning is the third most common cause of accidental death in children in the UK, with 26 fatalities confirmed accidental fatalities in water in Wales last year.(National Water Safety Forum: https://www.nationalwatersafety.org.uk/wales/news/posts/2022/may/rise-in-accidental-drowning-in-wales-prompts-call-to-be-safe-while-enjoying-open-water#:~:text=There%20were%2026%20deaths%20in,1%20from%20the%20previous%20year.)