The year 2022 has been one of change for Olympic champion Calum Jarvis – as the 30-year-old swapped the pool for poolside by taking up the role of Support Coach at the British Swimming Performance Centre Bath.
Alongside the famous 4x200m Freestyle Relay triumph in Tokyo last year, Jarvis amassed eight senior international medals throughout an illustrious career as an athlete, including an individual bronze medal at the 2014 Commonwealth Games in Glasgow.
The Welshman announced his retirement from competitive swimming after 2022's Commonwealth Games – almost 10 years on from his debut. Describing his journey to the top, Calum gave an insight into how his story with swimming began.
"My journey starts in the Rhondda Valley at a local pool, where I actually got taught by a para-swimmer who was missing a leg. Demonstrating kick with only one leg was challenging for my swimming teacher, especially for the symmetrical kick strokes like breaststroke." he recounts.
"I learned to swim with my older brother Jack, and it wasn't until we moved to Cornwall where we started taking swimming a little bit more seriously. It was no longer learning to swim for the sake of learning to swim, but about being safe in the sea."
"My first swimming club was the Wadebridge Swans at the time, who have now merged with Bodmin Dragons and I think they're now called the North Cornwall Dragons, so that's sort of where my journey started and the reason why I got into competitive something was just because I was really competitive with my older brother and I just wanted to beat him on everything I could."
"After North Cornwall Dragons, I got talent spotted by John Rudd and Amanda Booth who were head coaches at Plymouth Leander at the time, so I ended up moving to Plymouth from the age of 12. I was there for six or seven years, and that's when I really bought into swimming."
"Having sacrificed a normal childhood with my mum and dad and brothers and moved away, I buckled down and really got into it. That's when I began really developing as a young athlete, I made my first European juniors' team, and secured a place on the British swimming program from that age."
Jarvis secured consistent international call-ups for nearly a decade
"When I finished school it was all about where I was going to go to next, and the British Swimming junior development Head Coach at the time was sort of pushing me towards Cardiff, Swansea or Bath, one of those three in the South West."
"I looked around Bath and just absolutely fell in love with the place here. The staff were friendly and the program felt closer as a team with a common purpose and goal. I studied Sports Performance, which allowed me to train fully without needing to adapt my program and also study alongside (when I found the energy). The course felt like it was part time but with juggling a 28-hour week of training, it still felt pretty full on."
Whilst Jarvis continued his progression through the junior ranks of swimming, his emergence at the top of the sport didn't come without a number of stepping stones. He made his junior international debut with British Swimming at the 2012 European Short Course Championships in Chartres, France, whilst still at university with the Bath team – a team which he says he owes a lot to.
"I then carried on at Bath post-university for 12 years as an athlete and produced some amazing swims, with David McNulty, Jol Finck, Graeme Antwhistle and Jamie Main. Those coaches have got me lots of success and lots of medals. I've got an awful lot to thank them for, and I've learned so much from them and I know I'm still learning from them as a coach as well.
"Being part of the Performance centre is a really privilege. The team around me was the true definition of elite. But more than that as they all are great friends and so supportive of one another."
"There have been so many people who have helped me throughout my career – a lot of school friends who know what I've had to sacrifice in order to achieve the goals I've had. There's a lot of people you know within the swimming clubs themselves have always been a big part of my support group."
"The Surf Lifesaving Club as well, they've always been a big part of my journey. They've always supported me, especially during that lockdown period. For me to have people to train with in a safely-done way, so a big shout out to them, they helped with my training throughout the lockdown period."
"Swim Wales have always been there and supported my journey in every way that they possibly could and there's always been great people to help boost you forward.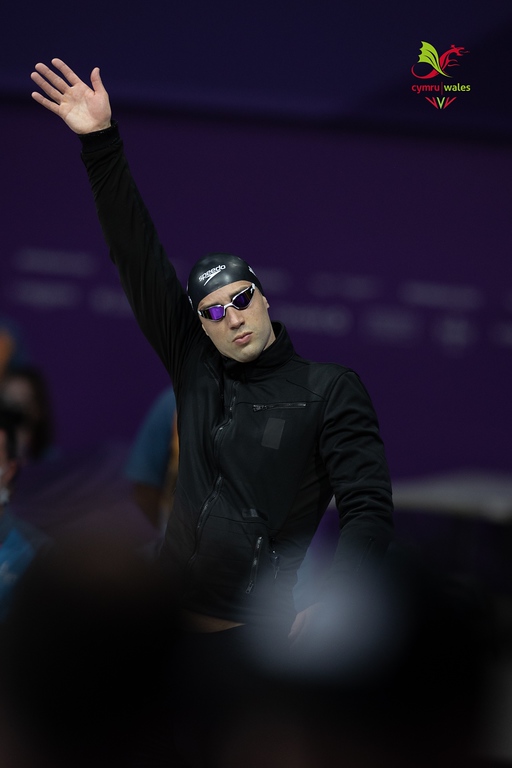 Jarvis has been an integral part of Team Wales.
"I've done three Commonwealth Games and Team Wales have always been great. For such a small nation, I think we do so well. We might not get loads and loads of medals, but actually what we do bring is great competition. We're always challenging and I think what's developed over the years is that we've really brought together a team which is really friendly, really supportive and a great team to be on."
Whilst Jarvis has become a successful individual swimmer in his own right, he also played an integral part in several relay campaigns across every level of major international competition, including two World Championship golds in the 4x200m Freestyle Relay – adding to his Olympic title in the same event in 2021. He has been on teams with a whole host of athletes across the duration of his career career, but James Guy and Duncan Scott are two names who have appeared with him on most of the podiums he has made, alongside Tom Dean and Matt Richards, who he secured the gold medal with in Tokyo last year.
"I'm massively proud of being part of the relay team. We've been a team together since 2015. Not many athletes have been racing together for that long, which I'd like to say is unprecedented with the results we've had. I think there's only been one major meet in 2019 where we didn't podium or didn't win it, I should say. So to come out with that many medals as a team and a group of guys is unbelievable and I can't thank them enough for what they've done for me," he added.
"I appreciate I've put in hard work as well, but I know they do just as much if not more. We meet up a lot, do camps together and we always get the most out of each other. I couldn't be more proud of those bunch of guys really. We've all achieved something so special and amazing together. It's only really when you sit back and you reflect on what that relay team's done [that it sinks in].
"Being on the team with James Guy, Tom Dean, Matt Richards and myself, we all trained in Bath so I know what we're doing but having the faith in what Duncan's doing up in Stirling, you've just got to have the trust that those guys are there doing the work."
"The relay team really bonded great in Tokyo. We do play a lot of cards, as it's a great game to socialise with and to find out more about one another.
Many would argue that swimmers may perform their best from around their late-teens to early-twenties, Jarvis won his Olympic gold medal at the age of 29. He spoke on his longevity in the sport, and how he managed to stay at the top of the game for so long.
"I recently listened to an audio book called Legacy from the All Blacks, and it's something which has stuck in my mind especially now. They always go on about leaving the jersey better than you found it and I think that's something that's really stuck with me. When I first joined that relay, we were getting into finals and just missing out on medals, so to turn that around to getting onto podiums and winning, that's leaving the shirt in a better place and creating a winning legacy."
With Jarvis' career as an athlete now over, his journey to the coaching side of the sport also stems from a considerable amount of preparation, as he commented on his reasons behind making the jump to the pool deck at Bath.
"I did my Level One and Level Two coaching qualifications in 2013. There's a few of the British athletes who did it and I just enjoyed the experience going through. Having done a few swim clinics and passing down everything I've learned over the years, I wanted to make the next generation of swimmers even better again."
"Going forward a few years, I am still continuing my development as a swimming coach by better understanding Strength and Conditioning and to hopefully pass as a fully accredited Strength and conditioning coach. This will allow me to help plan an effective program to produce even faster athletes. Being in Bristol really did ignite my passion for coaching and planning needed to write a successful program."
"Fast swimming has always been a big passion of mine and it's the same now. I'm not writing the gym programme anymore, but I'm enjoying being part of the conversations around "How do we make these people go faster again, and how are we going to get the medal total that we want in in one years' time or two?"
Jarvis' new role of Support Coach at Bath Performance Centre – where he works on the coaching staff with David McNulty and Jamie Main – is part of an initiative to grow the talent pool for coaches in the UK, with his role running parallel to one in Loughborough as preparations intensify for the Paris 2024 Olympic Games.
"The amount of experience and knowledge at Bath is really insightful for me, but the whole point of the Support Coach role is to help develop me as a coach to be able to take it into another programme at the end of the two years and help facilitate that the best way that I can," said Calum.
"What really stood out for me with this role was that I was going to be working with my old teammates and also going to be learning a lot from the support team we've got here. We're actually bringing people together a lot, so Dave and Jamie have both got their own groups, but four times a week we come together and it allows people just to raise their game. It just helps us to get the most out of the athletes, so I'd like to stay on here and be a part of that.
"My line manager is David McNulty, so I'm working with him and just impacting the session where I can, whether that's assisting and running two swimmers at a time to allow Dave to focus on the other guys, or if I'm helping out with Jamie and Leah on the distance stuff or whether it be Holly and Cam on the 200m stuff, I'm impacting in the way that allows the athletes to have more detail in their session or allows them to specifically work on what they need to.
"I'm being trained up to also assist with the sports science role, such as taking lactates and logging heart rates. We're setting all that up so it allows Dave and Jamie to have access to all of that for all 10 sessions rather than only four sessions. It allows the programme then to be really free with when we make people work and when we back people off. It just allows for greater individualisation for each and every athlete."
Calum gave some final comments on his time as an athlete, and paid more tributes to those who made his experience what it was.
"I'm just really grateful for the opportunities that it's all provided. I've been to places I never thought I would have, I've raced against some really big names in swimming, and even the swimmers we have here in Bath – to train with them every day is a privilege and it makes you want to come in because you're racing against someone who was a world champion or an Olympic champion. It makes you want to push them and they push you in return."
"The friendships made along the way from people all around the world as well, the great camps we've been on as Britain or as Wales, I'm really thankful for all of that.
"In terms of the journey itself, not many people get to stand up and say that they've been crowned as World champion, European champion, Commonwealth Games medallist and an Olympic gold medallist, but it's a complete honour and privilege to be able to do that myself, along with everyone who's been a part of the journey."