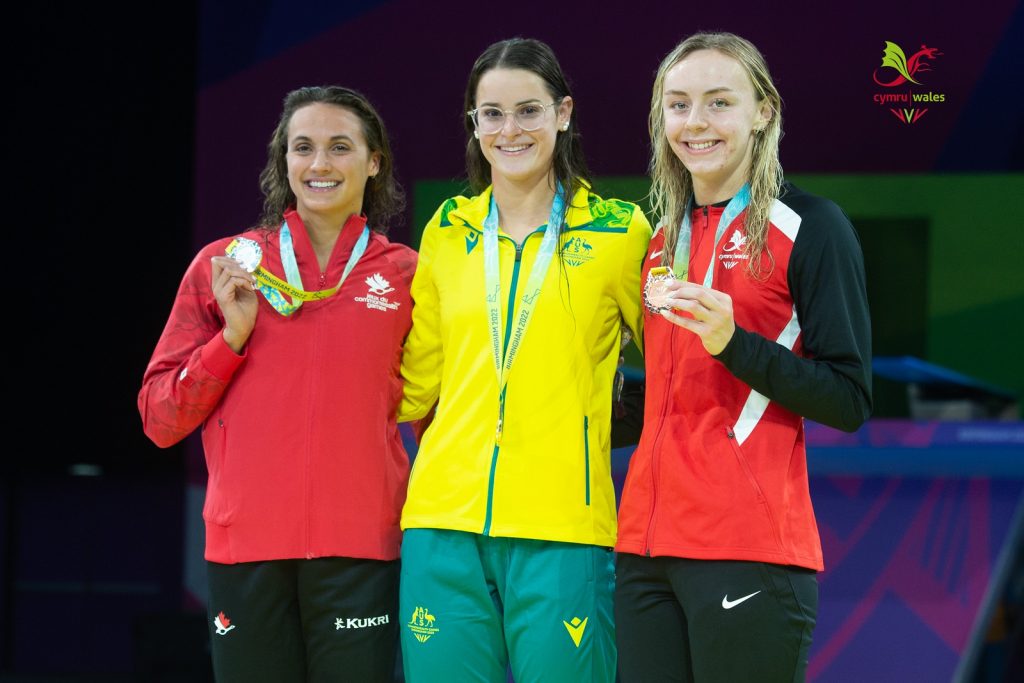 Lily Rice and Medi Harris secured Wales' first medals in the pool on a super Sunday at Sandwell Aquatics Centre.
In her first swim of her debut Commonwealth Games, Rice produced the goods to win S8 100m Backstroke bronze, despite suffering from illness. Her achievements become even more remarkable when you factor in that she only returned to competitive swimming at the end of last year after becoming Wheelchair Motocross world champion.
Now the first female in Europe to land a backflip can add a Commonwealth medal to her growing list of achievements.
"I feel absolutely amazing; I wasn't really expecting it as I've been quite ill over the last two weeks," she said. "To go out there and to medal is incredible.
"I could only stay in the pool for half the warmup in one session, but I've been working hard on land and that's paid off. I'm still not 100 percent.
"It's crazy to be Wales' first medallist, compared to some of the people on my team who've been swimming for years, it's just insane, I can't explain it.
"I could never have imagined this moment after getting back in the pool six months ago. I wouldn't have believed I'd even be at the Commonwealth Games a year ago, I would have told myself to shut up if I'd told myself I'd be medalling!"
Drawing inspiration from Rice's success, Harris went toe-to-toe with the world's best backstroke talents to finish a comfortable third. The North Walian was second at the turn as she tried to stick with Kaylee McKeown and Kylie Masse, and she powered home to finish third in 59.62.
Harris had the support of her friends, family and loved ones at Sandwell Aquatics Centre and at home in Porthmadog. And she believes their support spurred her on to a breakout medal winning performance.
"I would have never thought I would be on this podium with these girls, if you'd have told me I would be on the podium with them when I was watching the Olympics last year, I wouldn't have believed you at all," she said.
"I really want to shout out Porthmadog, I've seen everyone's posters and messages but I haven't gotten around to thank people. It made a real difference, it gave me an edge, I could hear all my family on the podium.
"My dad and my sister came to watch me at Worlds, they hadn't seen me since before lockdown so I'm so happy they were here tonight.
"I feel like our team is growing stronger and stronger each day. The connections we have with each other and the support everyone gives each other makes us so proud to be Welsh."
Medi's boyfriend Joe Small had made the men's 100m Backstroke final earlier that evening, while Harriet Jones produced a stunning swim to book her place in the 50m Fly final in a time of 26.39. There was disappointment for Matt Richards, who narrowly missed out on the 100m Freestyle final, but he will return as part of the 4x200m Freestyle team tomorrow.