Throughout Volunteers Week 2023, we will showcase some of the incredible volunteers who power Welsh aquatics.
Lisa Bryan's volunteering journey was borne from boredom in the viewing area at Amman Valley. Nine years later, after holding almost every role within her local club, she is now an International Para Classifier for World Para Swimming. Read her inspiring story in her own words.
So where did this begin? I probably have the same background as most coaches, I started as a parent sat in the viewing area and got bored so decided to actively get involved with my local swimming club Amman Valley. Nine years later I have held every role going in the club structure, started off with my Level 1 swimming teacher course then progressed to Level 1 and Level 2 Coaching. With the appointment of a new head coach to Amman Valley (Christian Whelan) who introduction me to the world of para swimming – I was hooked.
My official journey in the classification world started three years ago when I decided to become a National Classifier for British Swimming. This took two years of training to complete and sees me giving up annual leave and weekends to attend classification camps across the UK on a voluntary basis.
Within the last few years, I have progressed further to become part of the team coaching the National Welsh Para Squad who have gone onto compete in major international competitions led by Aled Davies.
I'm a person who can't sit still, and having been nominated by British Swimming, I naturally decided to step into the world of International Paralympic Classifier. With the support of my employer and annual leave I have just surpassed another massive milestone, stepping up a level from National British Swimming Technical Classifier to International World Para Swimming Physical Impairment Classifier trainee. I have just completed my second training camp and I am delighted to say I now have approval to obtain my official certification within the next 12 months. Basically, this means when I classify international athletes, I will travel the world for events at no cost to myself. So far this year I have been to France and have a further opportunity for Mexico later in the year, next year it could be anywhere, Malborne, Singapore, Mexico, France, Berlin, South Africa or the UK.
Nationally, I work with a team of three technical classifiers and six medical classifiers. Around 95% of the time I work alone with one other doctors to create a single panel at classification events but it is always great working as part of the larger team for learning opportunities.
You may be wondering by now, what exactly is an impairment classifier?
Well, if you ever get the opportunity to watch Paralympic Swimming, you will see the swimmers all swim under different codes S1 – S14 to be precise. My job is to work closely with a doctor or physio and initially undertake a medical review and testing of an athlete with an impairment to see if they are eligible to progress to the technical water test. Once they are in the water, I will assess the impact of the athlete's impairment to determine, a) are they eligible for the Paralympic system or b) can I allocate them a Sports Class Code. In terms of authority the water test overrules the medical assessment each time – this is simply for the fact we are not there to determine if someone is registered disabled but to determine how badly does that athletes condition impact their ability to perform a technically correct swimming stroke. I could bore you all day with the technicalities, but I won't.
Whilst the process above seems relatively straight forward – it is far from that. The process of determining the class comes from a point-based system and depending on the number of points awarded determines which class you will be allocated.
Typically the more impaired an athlete is the lower their classification, an athlete with say Cerebral Palsy could be an S7 or depending on the severity of the condition they could be an S10. Short stature and Achondroplasia tend to be either S6 or S7 depending on their height. A limb amputation may be an S9 but a multiple amp could be S7, then we have athletes who have multiple health issues including learning difficulties. Classes S11 – S13 are those athletes with hearing and visual impairments and S14 whilst they appear able bodied have learning difficulties (an IQ of less than 75).
When you watch a Paralympic race there is an element of confusion particularly when you see a race which includes a child with short stature versus a 6ft teenager missing a limb – instantly you think, that can't be fair. Well, it doesn't work like that as explained earlier, they will be swimming in different classes and each athlete is swimming against a world record, they are not actually racing each other – they are racing a pre set time and depending on how close they get to that time will determine their score out of 1000 and ultimately if they are medallists.   
The decisions I need to make are complex and rely heavily upon my technical coaching experience when I am trying to determine if what I am being presented with is a true reflection of the swimmer's ability or if this an incomplete picture which can be trained.
At the end of each assessment, I need to communicate clearly with the athlete to explain my decision-making process as ultimately this is utterly personal to the athlete, be that a 10-year-old child or a 35-year-old adult. My decision on Sport Classification can be life changing for the athlete and even more so at international level. Some decisions are difficult to deliver and emotions can run high between the athlete/parent and coach – crying and shouting at me is not uncommon but with understanding and detailed conversations most situations are resolved amicably.
Why I became an International Para Classifier
Well, the answer is simple, I love it! I love working with disabled people, I love seeing an athlete who faces such adversity in daily life just getting into the water, smiling their heads off and giving it their all because swimming makes them feel free, strong and in control of their lives. Yes, I have situations where it is difficult, like talking to a child you know who won't see adulthood, but when they are smiling and laughing at me, and I've been part of the journey that made it possible for them to complete then it makes it all so worthwhile.
My greatest joy so far has just happened in France, after classifying an S3 swimmer with no legs and severely restricted arms, I delivered my results and the boy, who didn't speak English was smiling. As I walked away his coach ran up and enthusiastically thanked my colleague and myself saying the boy in question who has no parents had tried to kill himself three weeks ago and that his classification now gives him a reason to live. Did I cry? Yes I did, as did my colleague. For us this may seem like just a number but for those athletes this is life changing and I get to be part of those decisions.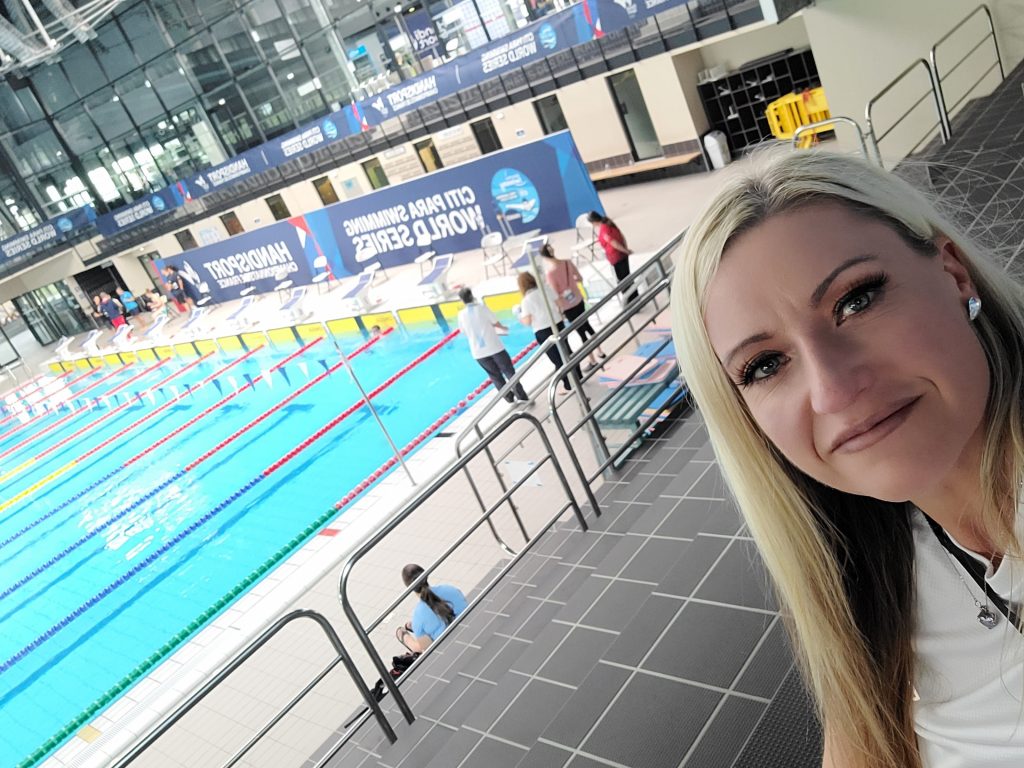 I'm part of an elite limited team of volunteers and the only active swimming classifier in the entirety of Wales, and the only Technical International Classifier for the UK.
Hopefully once I start training more coaches, we will build the team and experience needed to sustain the United Kingdom's contribution Internationally. If you would be interested in becoming a classifier, I am happy to chat about my experiences.