A group of eight Welsh swimmers have been invited on to British Swimming's World Class Programme (WCP) for the 2022-23 season, as preparations begin for another World Championship year and another move closer to the Paris 2024 Olympic Games.

The Welsh contingent have been selected after a thorough selection process following an unprecedented year in the pool, on top of an in-depth assessment of their capability to be successful at future Olympics and World Championships, with the 2023 World Aquatics Championships in Fukuoka, Japan only seven months away.

The 53-strong list of athletes contains multiple Olympic, world and European champions, including Olympic relay champion Matt Richards and Commonwealth Games bronze medallist Medi Harris.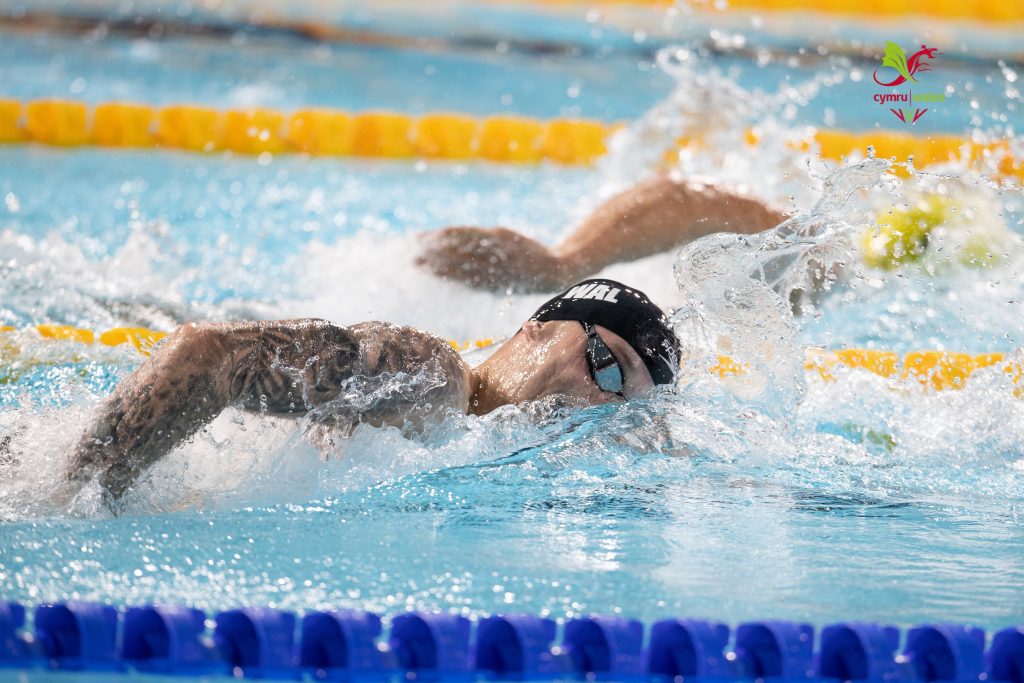 Swimmers across the World Class Programme are part of either Podium or Podium Potential tiers. They will receive programme opportunities and targeted support from British Swimming and UK Sport.

Daniel Jervis joins Harris and Richards in the Podium cohort, as he looks ahead to a bright 2023 following his covid-hit Commonwealth Games.

Their Swim Wales teammates Kieran Bird and Kyle Booth have been selected in the Podium Potential group, alongside Swim Wales Young Performance athlete of the Year nominee Tyler Melbourne-Smith and City of Cardiff's Kaden Edwards, who enjoyed a successful 2022 in which he secured a place at July's European Junior Championships.
Open water specialist Hector Pardoe joins the Podium Potential group looking ahead to Paris, following his eye injury at the Tokyo Games.

The Welsh group will join the likes of Olympic gold medallists Adam Peaty, Freya Anderson, Duncan Scott and Anna Hopkin on the programme.

Key competition opportunities and training camp experiences throughout the season are among the benefits for WCP athletes, while there is access to comprehensive support from the world-leading British Swimming performance and sports science and medicine support staff, plus access to a network of national Institute of Sport programmes across the UK.

With Paris 2024 approaching the '18 months to go' mark, and on the back of a season that saw outstanding results at World Championship, European and Commonwealth level, British Swimming Performance Director Chris Spice is looking forward to seeing the 2022-23 WCP cohort move things on again in the new season.

"The challenge for our swimmers right now is how to follow up a historic Olympic Games and a packed 2022 summer in which our teams showed mental strength and resilience – and we are excited to see how this group of athletes rises to that challenge in the coming months," he said.

"Successes such as those we've seen in Tokyo, Budapest and Rome over the past 18 months is testament to the quality and commitment of our athletes in the arena, as well as the high standards set by our elite coaches and support staff in training.

"We know that the swimming calendar in 2023 is more straightforward than in the recent season, with the focus very much on how our swimmers can best prepare for the World Championships in Fukuoka and our key pathway competitions next year. The next Olympic Games are a year and a half away now, so progressing things in and out of the water towards Paris remains the ultimate goal and something we are excited to work on with this talented group of athletes."
 
Podium
Freya Anderson, Bath Performance Centre (England)
Lewis Burras, Repton Swimming (England)
Kathleen Dawson, University of Stirling (Scotland)
Tom Dean, Bath PC (England)
Luke Greenbank, Loughborough Performance Centre (England)
James Guy, Bath PC (England)
Medi Harris, Swim Wales High Performance Centre (Wales)
Lucy Hope, University of Stirling (Scotland)
Anna Hopkin, Loughborough PC (England)
Daniel Jervis, Swim Wales High Performance Centre (Wales)
Joe Litchfield, Loughborough PC (England)
Adam Peaty, Loughborough PC (England)
Jacob Peters, Bath PC (England)
Ben Proud, Bath University (England)
Matt Richards, Millfield School (Wales)
Duncan Scott, University of Stirling (Scotland)
Jacob Whittle, Loughborough PC (England)
James Wilby, Loughborough PC (England)
Brodie Williams, Bath PC (England)
Abbie Wood, Loughborough PC (England)

Podium Potential
Jonathon Adam, Bath PC (England)
Angus Allison, University of Stirling (Scotland)
William Bell, Loughborough University (England)
Kieran Bird, Bath PC (Wales)
Kyle Booth, City of Cardiff (Wales)
Cameron Brooker, Bath PC (England)
Charlie Brown, Loughborough PC (England)
Freya Colbert, Loughborough PC (England)
Evelyn Davis, University of Stirling (Scotland)
Evie Dilley, Millfield School (England)
Kaden Edwards, City of Cardiff (Wales)
Harvey Freeman, Loughborough University (England)
Lucy Grieve, University of Stirling (Scotland)
Robbie Hemmings, Poole Swimming Club (England)
Charlie Hutchison, Loughborough PC (Scotland)
Evan Jones, University of Stirling (Scotland)
Cameron Kurle, University of Stirling (England)
Keanna MacInnes, University of Stirling (Scotland)
James McFadzen, Loughborough University (England)
Tyler Melbourne-Smith, City of Liverpool (Wales)
Edward Mildred, Bath PC (England)
Eva Okaro, Sevenoaks Swimming Club (England)
Alexander Painter, Millfield School (England)
Hector Pardoe, Loughborough University (Wales)
Sienna Robinson, City of Sheffield (England)
Reuben Rowbotham-Keating, City of Manchester Aquatics (England)
Emma Russell, University of Stirling (Scotland)
Leah Schlosshan, City of Leeds (England)
Katie Shanahan, University of Stirling (Scotland)
George Smith, University of Stirling (England)
Laura Stephens, Loughborough PC (England)
Matthew Ward, Mount Kelly Swimming (Scotland)
Elliot Woodburn, Millfield School (England)
 
ENDS