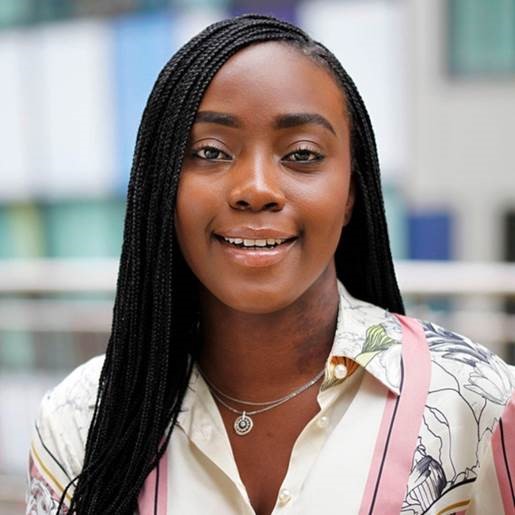 Just 12 months ago, Theresa Ogbekhiulu could only splash around in the shallow end of the pool due to a fear of deeper waters, but now she is inspiring others on their learn to swim journeys.
Theresa moved to Wales from Nigeria aged 16 and went on to study at Swansea University where alongside her studies she has campaigned for race equality and the need for education to reflect the diversity of the student body. Theresa is now able to take an active role in ensuring people from all backgrounds are represented within different spaces in her role as Project Advisor for Race Equality and EDI at the University.
With studies, work and volunteering all taking up her valuable time, aquatics had never really crossed Theresa's mind. But a chance conversation with a friend has changed her outlook and taken her from a total novice to a trainee swimming teacher with the goal of inspiring her community to get into water.
"Last year, I was having a conversation with my friend about swimming and how we hadn't done a lot in the past apart from splashing around," she said. "I definitely had a phobia of the water so my friend and I started Learn to Swim classes at Moriston Leisure Centre.
"We both started from ground zero, from struggling in the shallow end to now swimming with a lot of confidence in the deep end. Prior to that, I didn't think swimming was an activity I would be interested in due to my lack of water confidence. But we took the bold step to make enquiries and sign up for Learn to Swim.
"If you follow all the news and data around drowning, people from minority ethnic backgrounds drown in disproportionate rates due to so many reasons including people not being exposed to leisure from a young age.
"Living in a coastal city like Swansea, it's almost impossible not to come across water so it's such an important life skill to have. We carried on with the programme and a couple of months later, we could swim a length of the pool without any aids."
People from ethnic minorities are at an increased risk of drowning according to the World Health Organisation, and only 5% of black adults in the UK say they regularly swim. While some white people grow up with swimming lessons and holidays that provide access to pools or the ocean, the same isn't the case for many Black people across the nation.
Just four months after starting her Learn to Swim classes at her local pool, Theresa was swimming a length unaided. Her journey inspired her to want to pave the way for other black people to get into the water and learn the lifesaving and life enhancing skills swimming provides.
The Black Swimming Association contacted Theresa and she jumped at the opportunity to complete Swim Wales swim teacher training.
"I love to volunteer my spare time to help in the community in any way I can and I thought teaching kids how to learn to swim would be a great use of my time," she added.
"But learning for yourself is much different to teaching other people. You need the right language and the right skill.
"I jumped at the opportunity and thought 'why not!' with a lot of excitement, but also anxiety because I had just learned to swim myself.
"For the BSA, their passion comes from a place of wanting to increase diversity in the workforce across Wales, and that is very important. Young people need role models and they need to see people who look like them in these spaces to believe they can do these things as well. It's about making swimming more accessible and that's why I'm committed to this."
Theresa has discovered a new community of like-minded people who are passionate about water safety while on her course. And she would recommend the Swim Teacher Level 1 course to anyone looking for the next step in their career, or a new a challenge.
"When I started the course, it was very challenging," she added. "We were learning on Zoom which was challenging but fun at the same time because the instructor made it very fun and accessible. I had to do a lot of reading behind the scenes because a lot of the people on the course were very familiar with swimming already.
"Barrie is so amazing and approachable and gives very constructive feedback. He warmed my heart and allowed me to open up to the lessons and my fellow classmates also made it very comfortable for me."
Find out more about the Black Swimming Association.