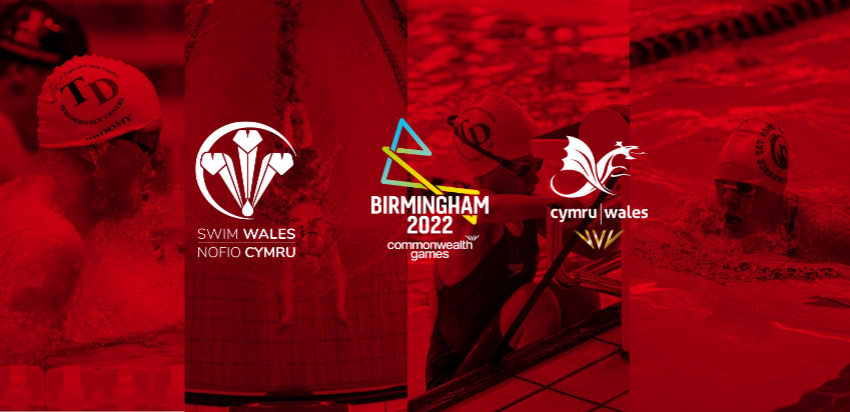 Swim Wales is proud to announce the four para swimmers selected to represent Wales at the Commonwealth Games.
Dylan Broom, Rebecca Lewis, Lily Rice and Meghan Willis make up the largest Welsh para swimming squad to travel to a Commonwealth Games when they take on some of the world's best para athletes at the newly built Sandwell Aquatics Centre in Birmingham this summer.
Each of the four swimmers had to rank in the top eight in the Commonwealth for their event and class to seal qualification for the Games. It is testament to the work being done across the Swim Wales Para Performance Pathway that four athletes, across three classes, from three Performance Clubs earned places at Birmingham 2022.
Torfaen Dolphins will be represented by Broom and Willis, who will compete in the 200m Freestyle S14 and 200m Individual Medley SM10 events respectively. Pembrokeshire County's Rice, who is already a World Champion in Women's Wheelchair Motor Cross, will race in the 100m Backstroke S8, and Rhondda Cynon Taf Performance Swim Squad athlete Lewis is set to take on teammate Willis in the 200 IM SM10.
Ross Nicholas, Swim Wales National Performance Director said: "We are extremely proud of the para swimmers who have gained qualification for the Commonwealth Games. This is testament to the hard work and dedication of the swimmers and their coaching teams. To see four para swimmers coming from three of our Performance Clubs really shows the depth and quality within our Performance Club network, and we can't wait to see them race in Birmingham this summer. We have put considerable time and resource into developing Para Swimming nationally and we look forward to supporting these swimmers as part of the wider team representing Wales at the Commonwealth Games.
Matt Kendrick, Swim Wales National Para Pathway Manager said: "This is a fantastic achievement for Dylan Broom, Meghan Willis, Lily Rice and Rebecca Lewis who will represent Wales in Birmingham at the Commonwealth Games. We have seen a period of significant growth in para swimming nationally and we are incredibly proud to have representation across multiple classifications and multiple events at the Games this summer.
"I want to recognise and give thanks to the Performance Club coaches working with our qualified para swimmers; Nick Russell (Pembrokeshire County Swimming), Keith Morgan (Rhondda Cynon Taf Performance Swim Squad) and Ian Rosser (Torfaen Dolphins) who have all truly embraced and driven an inclusive high performance culture within their respective club programmes. I also want to take the opportunity to recognise the outstanding work that our Lead Para Swimming Coach, Aled Davies, has done in getting our para swimmers into this position."
Chris Jenkins, Commonwealth Games Wales CEO said: ''Congratulations to all the athletes who have been announced today. The 11 athletes across the four sports who have qualified to compete in Birmingham have shown they are on great form and I'm sure will create a big impact this summer. It's great to see Joshua Stacey from Table Tennis and Julie Thomas from Lawn Bowls back in the team, both came home with medals in 2018 and I'm sure they will utilise their Games experience from four years ago when they start competing this summer. It's also very exciting to see so many new faces in today's announcement, it's a credit to every one of the athletes and their support team to qualify for the Commonwealth Games.''
Our para swimmers will be in action across six days of swimming, from July 29th through to August 3rd.
The 18-year-old Rice from Tenby has defied the odds to reach her first Commonwealth Games after only returning to competitive swimming seven months ago following a lengthy hiatus. Rice lives with hereditary spastic paraplegia which affects her lower limbs, and has used a wheelchair since the age of 10. After winning the WCMX World Championship and becoming the first female in Europe to complete a backflip in a wheelchair, she now has her sights set on success in the pool at Birmingham.
She said: "It's really exciting, especially as I haven't been swimming competitively for that long since coming back. To have an opportunity like this is amazing. I swam when I was younger at some of the British junior international meets but I took a big break with the WCMX and came back into it in October last year.
"The Olympics and Paralympics last summer really inspired me to get back into it. When I saw the people I had competed against previously swimming at that level, it made me want to come back even more. It's definitely exciting to push myself and see what I can do at the Games. I'd love to go sub-1:20:00, but I'm working hard in training and we'll see if that pays off."
Abersychan's Broom, 20, who's condition affects his processing speed, reaction time, stroke rate admitted he almost gave up the sport at the end of last year. But after conversations with his coaches and a British Swimming sports psychologist, he is back to his best and ready to take on the world this summer.
He said: "The way I found out was pretty interesting. My coach Ian knew, and we were out on a boys' squad day out paintballing. As we were coming back home, he called me over in Newport and he told me there and then, and I broke into tears on the side of Malpas Road.
"At the start of this year I was considering quitting swimming. I wasn't making any progress or improvements to my times. I think it was a mental block, physically I was fine but mentally I couldn't get there.
"There was a couple of things that changed that for me. British Swimming got me talking to a sports psychologist. I had a really good chat with my other coach Tom as well and that really made a difference.
"It's amazing to be representing Wales, this will be the biggest event I've ever competed at. It's a home games, my brother and all my family will be there and even my friends bought tickets which I was surprised about because they're so expensive! I'm going to have to perform for them now."
Cwmbran swimmer Willis is the youngest of the quartet at just 14 years-old. The SM10 athlete, who was born without a right hand and partial forearm, has recently won youth gold medals at Para Swimming World Series events in Aberdeen & Italy to earn a nomination for the Disability Sport Wales Emerging Athlete of the Year Award.
She said: "It was a real shock when I found out, we were having a nose at everyone else's times and I wasn't sure whether I'd get in as the last qualifier or not.
"In my head, I'd told myself that it was fine if I didn't make it, I would always be able to have another shot. So when I found out it was a bit of a shock and it took a while to settle in. I think it was the next day when I realised I was actually going! It was quite surreal.
"I get more excited than nervous; I try to stay as cool as a cucumber. When the build-up starts to get more intense the nerves might start to come in, but I'm just keeping happy and excited for now."
Lewis from Church Village will compete in the SM10 200 Individual Medley event alongside teammate and friend Willis. Lewis, who has mild hemiplegia cerebral palsy on her left side, underwent hydrotherapy as a young child and discovered an ability to swim.
She said: "It's an honour to be able to represent your country, I come from a family of proud Welsh people. I'm really excited but I am a bit nervous for Birmingham.
"I think my mum and my sister will be up there supporting me, they're my biggest fans. Everyone's been asking me if I know if I'm going so I can't wait to finally tell them.
I had to do hydrotherapy when I was younger and that's how I discovered I was a strong swimmer. I started lessons at five, joined Pontypridd SC at nine then moved to RCT when I was 10 or 11.
"I have mild hemiplegia cerebral palsy on my left side which affects the strength of my whole left side. Swimming has always been a release for me, I love being in the water no matter where I am."
Please direct all interview requests through Swim Wales Communications Manager James Candy (james.candy@swimming.org), or Team Wales Head of Engagement Cathy Williams (cathy.williams@teamwales.cymru).
Swim Wales will release athlete features over the coming days. For further information, do not hesitate to get in contact.