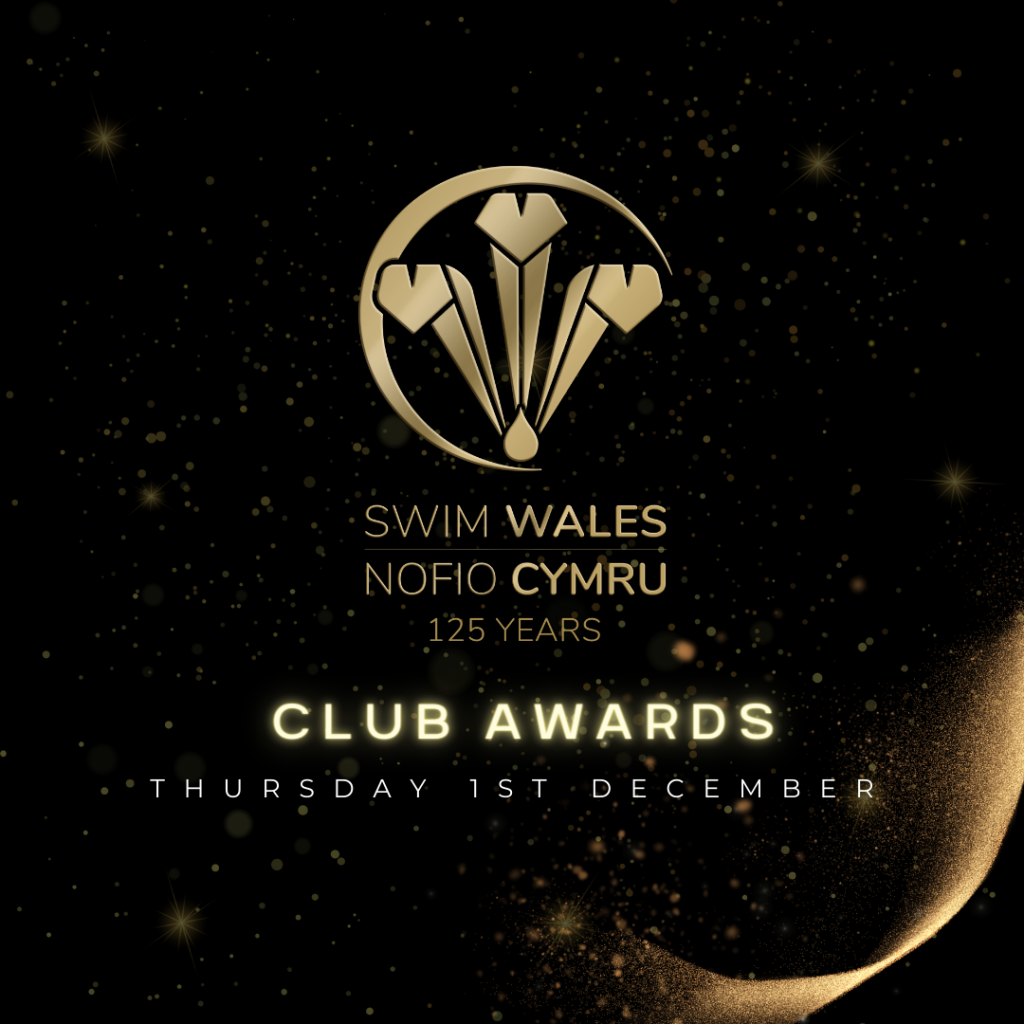 The new look Swim Wales Club Awards will return on December 1st!
Following the success of 2020's virtual Awards night, we are delighted to confirm this year's edition of the Swim Wales Club Awards will again be held virtually on Thursday 1st December at 19:00, available online for all to view.
This year, after listening to your feedback, we have changed the structure of our Club Awards to celebrate our aquatics community and the fantastic work being done to grow our sport across Wales, alongside recognising the outstanding achievements of our performance athletes and coaches.
The Partner of the Year and Swimming Teacher of the Year awards will be celebrated at our refreshed Learn to Swim and Partner Awards. More information will be available in the coming weeks.
This year's Awards evening will provide the perfect platform to showcase the very best of Welsh aquatics in the organisation's 125th year.
Sioned Williams, Head of Aquatics and Inclusion, said: "We are delighted to announce the return of our Swim Wales Club Awards. After the various challenges we have faced across our sport in recent years, it promises to be a fantastic occasion to bring the community together to celebrate the successes of our athletes and volunteers. We can't wait to see you all on December 1st!"

"Mae'n bleser gennym gyhoeddi bod noson wobrwyo Clybiau Nofio Cymru yn dychwelyd. Ar ôl yr heriau amrywiol rydym wedi'u hwynebu dros y blynyddoedd diwethaf, mae'n mynd i fod yn achlysur gwych i ddod â'r gymuned at eu gilydd i ddathlu llwyddiannau ein hathletwyr a'n gwirfoddolwyr. Ni allwn aros i'ch gweld i gyd ar Ragfyr 1af!"
Nominations for our revamped awards categories will open on Monday 3rd October, the categories are as follows: Club of the Year Swim Wales Young Swimmer of the Year Swim Wales Senior Swimmer of the Year Swim Wales Para-Swimming Award Coach of the Year Swim Wales Young Volunteer of the Year Swim Wales Volunteer of the Year Swim Wales Aquatic Athlete Swim Wales Aquatic Coach Award Outstanding Contribution Award
The Swim Wales Club Awards will be streamed across our Facebook and YouTube channels so everyone can get involved. We look forward to seeing you on December 1st, stay tuned for more information!