The Swim Wales Event and Competition Guide will help you through the pitfalls and challenges of organising and managing a swimming competition from start to finish.
Swim Wales are the National Governing Body for Aquatics in Wales and host a selection of national competitions each year; these include Open Water, Masters and Seniors, development, national and open events.
Pool based events are split as below:
| EVENT | SUMMARY |
| --- | --- |
| Development | Development meets target new or developing swimmers, provide a starting platform to compete |
| National Welsh Championships | These events are the Welsh National competitions. In these events the Top Welsh Swimmers are recognised. |
| Open Events | These events are the show stoppers and open to entries from Wales, GB and the rest of the World. Providing a stage to compete with high swimming standards and large crowds. |
| Masters and Seniors | These events target our Master (25+) and Senior (18-24) swimmers |
Welsh events are ranked as below:
Each event targets a specific group of athletes, from grassroots to elite providing a platform for all to compete.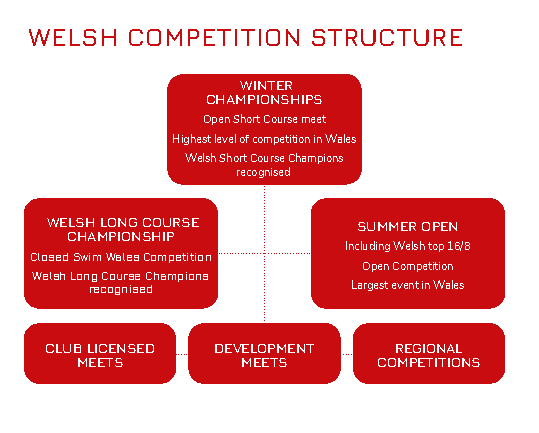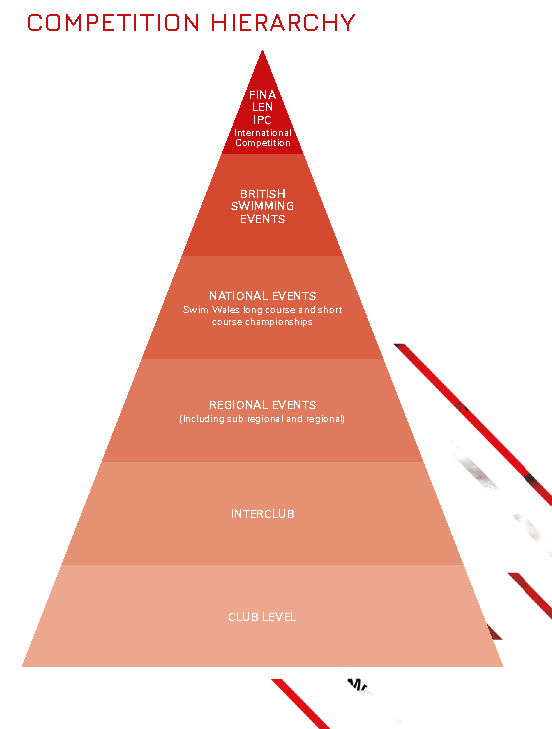 Timescales
An event can take a long time to organise, the sooner you start planning your event the better. Usually an event will open for entries at least 8 weeks before the competition is due to take place; by this time you will need to have your meet pack and conditions ready, completed your license application, booked your venue and created your event management team.
Event planning can be time consuming and lengthy, but if you strip an event down to its essentials the process can be very manageable. This guide will take you through, step by step, the essential parts
of event planning including before, during and post event tasks. Additional support is available in the appendices including template documents for you to use. The outlined chapters and steps are used by the Swim Wales Event Team to create, manage and develop the National competitions.
Events provide an opportunity for competition; this can be for development swimmers as a first competition right through to international races. Establishing what the purpose of your event is and who
you are targeting is very important. Events are time consuming and can be costly, so being sure of the purpose and need for your event is very important before you start planning. It will help to shape your
competition, entry conditions and determine the athletes who will attend.
Questions to ask should include:
What is the purpose of the event?
Is there a demand for this event?
Who is this event for – who are we targeting?
Do we have the capacity and skills to manage this event – who will lead the planning?
When should this event be held – where does it fit in our club and competition calendars?
If you can confidently answer these questions – congratulations – you are ready to begin planning your competition.
Pre-Event
1.1. Venue selection
1.2. Selecting a date
1.3. Appointing your team
1.4. Meet pack and entry conditions
1.5. Meet license applications
1.6. Publishing your meet pack
1.7. Entries
1.8. Poolside pass applications
1.9. Officials and volunteers
1.10. Ordering medals
1.11. Risk Assessment
1.12. Other pre event consideration
During Your Event
2.1. Complaints and queries
2.2. Complaint procedure
2.3. Front of house
2.4. Volunteers
Post Event & Appendices
3.1. Thank you to volunteers
3.2. Post event report
4.1. Templates
4.1.1. Application to officiate
4.1.2. Volunteer rota
4.1.3. Poolside pass application
4.1.4. Expenses Template
To download the full Swim Wales Event Guide please click here: